In keeping with the 12 in '12 Reading Challenge for EMS Professionals, I'll be offering up a book review each month this year.  February got pretty busy, so I'll be doing two reviews for March.  This EMS Book Review is A Parame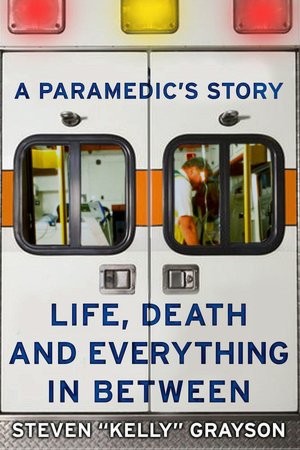 dic's Story: Life, Death, and Everything in Between by Steven "Kelly" Grayson (ISBN-10: 1607146576).
Among other things, Grayson is an active contributor to EMS1.com, where his bio page reads, "Kelly Grayson, NREMT-P, CCEMT-P, is a critical care paramedic in Louisiana. He has spent the past 18 years as a field paramedic, critical care transport paramedic, field supervisor and educator. He is a former president of the Louisiana EMS Instructor Society and board member of the LA Association of Nationally Registered EMT's."
Clearly, he is qualified to tell 'a paramedic's story.'  The question is whether it is a story worth reading.  When I first saw the table of contents, I was thinking, "Oh no, a collection of war stories that all end with him looking like an EMS Superhero."  Despite my misgivings, I plowed ahead into the book.  Quickly I realized two things; first, that they weren't all war stories.  Some of the chapters are simple retellings of conversations or shifts that Grayson had with important people in his career.  Second, there aren't any chapters that build a case for him being an EMS Superhero.  Instead, they all speak to something more foundational, perhaps that we're all normal people trying to do an abnormal job.  Both of these elements made the book more inviting.
Another welcoming aspect of the book is Grayson's writing style.  He has a colorful and dynamic style that keeps a story going where many EMS authors would instead get bogged-down in procedural details of a call.  He also keeps the chapters short, perfect for passing the downtime at your next posting location.
My only caution to readers is that Grayson's colorful writing sometimes crosses over to profane.  It is usually because he's giving a direct quote from someone encountered on the streets or otherwise under extreme stress.  I don't hold it against Grayson.  Many of the instances are stories I can relate to from my own experience, and there were just as many obscenities when they happened to me.  So, while I understand the writing style, I wouldn't recommend giving this book to a young family member with EMS interests.
Overall, I recommend this book to adults both with and without EMS experience.  The paperback version comes in at only $10, and this makes it a perfect fit for both your jumpbag and your wallet.