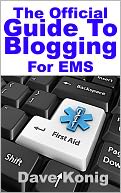 My EMS Book Review for October is The Official Guide to Blogging for EMS by Dave Konig.  Although the title implies it being a "guide," this book is in a class of its own in an industry steeped in guides and manuals.
Not everyone in EMS has their own blog, and that's okay.  Even if a provider doesn't write for the masses, he or she can still benefit from this book.  We all read EMS literature in some form, and this book helps sets standards for what is "good" or "not so good" in our reading diet.
Konig is a New York City based EMS provider working in the field since 1994. He has worked in the private sector, as a 911 provider, and as a volunteer.  Additionally, he has been heavily involved in all aspects of social media since 2005.  He is currently the founder and administrator of the well-known EMS Blogs Network.  When it comes to EMS blogging, he is THE subject matter expert.
I enjoyed this book because it is both authoritative and immediately useful.  Konig not only writes with the authority of a blog network administrator, but he also offers specific examples (with links) for each topic he discusses.  Being immediately useful is also an essential attribute for any EMS "guide."  EMS folks don't have time to meditate on complex pathophysiology theories while managing emergencies, so throughout the book Konig goes straight to the point for new (or experienced) EMS bloggers looking to improve.
Every EMS provider has a voice and shares part of the responsibility for moving us ahead as a profession.  If you've ever thought that your voice and ideas could help the next person down the line, maybe this is the year you give EMS blogging a try.  Pick up Konig's book and get to it!